Source: Posted by: : Paul Ebeling Live Trading News 12.1.14
The March Toward Marijuana Legalization: 2016 and Beyond
State-level marijuana law reform won big in last month's elections, with legalization initiatives triumphing convincingly in Alaska, Oregon, and Washington, DC. The Florida medical marijuana initiative lost, but only because it had a higher bar of 60% of the popular vote. It ended up with 57%, a clear sign of solid majority support. And don't forget Guam — the US territory approved medical marijuana with 56% of the vote.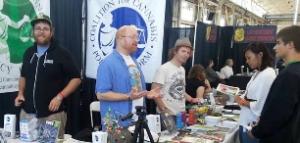 The California Coalition for Cannabis Policy Reform is laying the groundwork for 2016. (CCPR)
Local marijuana reform initiatives also fared well. In Maine, Massachusetts, and Michigan, activists built on earlier successes to win more victories this year, while in New Mexico, voters in Albuquerque and Santa Fe voted in favor of decriminalizing pot possession.
All in all, a good year for marijuana law reform, the second good election year in a row. Since 2012, voters in four states and DC have been asked to legalize marijuana. They've now said yes in all of them.
And now, eyes to turn to 2016 and beyond. There are excellent prospects for more victories in the West, as well as in the Northeast. And there could be some surprises lurking out there in the middle of the country.
California, of course, is the big prize, and efforts are already well underway to ensure that legalization is on the ballot in 2016 — and that it actually wins this time. Arizona and Nevada are also on the radar, and the Nevada initiative campaign has already turned in twice the number of signatures needed to make the 2016 ballot.
In the Northeast, both Maine and Massachusetts are initiative states, and legalization appears headed for the ballot in both. In Rhode Island and Vermont, the push will come in the state legislatures.
"Things are clearly headed in the right direction," said Marijuana Policy Project (MPP) communications director Mason Tvert, scanning the post-election terrain. "Even in a midterm where we saw large Republican gains, we also saw large gains for marijuana policy reform. A lot of people would say the turnout was smaller and more conservative, yet we still saw strong majorities approving measures making marijuana legal in various states and cities."
MPP will be backing 2016 initiatives in five states, Tvert said, although the Nevada legislature could ease its burden by just approving an initiative rather than punting to the voters.
"In Nevada, the petition drive has just wrapped up. At this point, our goal there is to pass the ballot initiative; if the legislature chooses to take an objective look and give it some real consideration, that would be excellent, too," he said.
"We also have committees filed to support initiatives in Arizona, California, Maine, and Massachusetts," Tvert said. "In California, we want to begin to raise money to support that effort, but it's pretty early in the process. We expect to see very solid support for such a measure in California, especially running in a presidential election year when support for legalizing marijuana has been growing nationwide. Prop 19 got 47% in 2010; that will be six years ago come 2016."
"We have a pretty comprehensive statewide coalition working on this," said Dale Gieringer, executive director ofCalifornia NORML, which is a key part of that grouping, the California Coalition for Cannabis Policy Reform. "The coalition includes us, the Prop 19 people, Law Enforcement Against Prohibition, MPP, the Emerald Growers Association, and the Drug Policy Alliance (DPA) has been a partner in this, too."
A little less than two years out, it's a work in progress, said Gieringer.
"Pretty much all the leading groups interested in drug reform are interested in collaborating, but exactly how that will work hasn't been settled yet," he said.
Now that four states and the District of Columbia have legalized marijuana, Gieringer sees some political space for pushing the envelope.
"Home cultivation will be in it," he said. "They have that in Oregon and Colorado, and we're going to have it in California. I also want to provide for on-site consumption; we're working to get that instituted here in Oakland. In Colorado, they banned public use, which is one thing if you mean smoking pot on the street, but governments tend to have an expansive view of what constitutes public use, like a public accommodation under the Civil Rights Act. I think we can provide for licensed on-site consumption, at least by local option."
And no reason to make what he called "unnecessary concessions."
"We have a DUID law, and we don't need to change that," he said. "They didn't do that in Colorado and Oregon, and we don't need to do it. We learned a lesson in Washington — that lack of an express DUID provision didn't make a difference — and we're not going to repeat that."
Although more than any other group in the coalition, CANORML represents the interests of marijuana consumers, Gieringer said it's not pot smokers or growers who are going to make an initiative victorious.
Article source: http://www.livetradingnews.com/march-toward-marijuana-legalization-2016-beyond-85327.htm#.VH4Gv8nsJcZ