Source: By Dr. Sanjay Gupta, CNN chief medical correspondent  3.11.14
Don't miss "Weed 2: Cannabis Madness: Dr. Sanjay Gupta Reports" at 10 p.m. ET Tuesday. Also, Gupta will be answering your questions on Reddit at noon ET.
(CNN) — In the early 1960s, a young postdoctoral student stumbled onto something that puzzled him.
After reading the literature on cannabis, he was surprised to see that while the active compound in morphine had been isolated from opium poppies 100 years before and cocaine isolated from coca leaves around the same time, the active component of marijuana was still unknown.
This simple observation launched his life's work.
That young Israeli researcher, Raphael Mechoulam, is now a heavily decorated scientist, recently nominated for the prestigious Rothschild Prize. More than 50 years ago, however, he had trouble starting his scientific journey.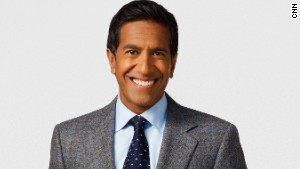 Dr. Sanjay Gupta is a practicing neurosurgeon and CNN's chief medical correspondent.
For starters, he needed cannabis to study and didn't know how to obtain it. Eventually, he obtained his research supply from friends in the police department. The young scientist was in a hurry, and didn't want to wait to cut through the red tape required by Israel's Health Ministry.
"Yes, I broke the law," he told me when I met with him in Tel Aviv last year, "but I apologized and explained what I was trying to do."
Dr. Gupta: 'You get a distorted picture'
Doctor: Weed is not a 'gateway drug'
It's a good thing the Israeli government didn't stall his progress, because Mechoulam was moving at breakneck speed.
Dr. Sanjay Gupta: "Doubling down" on medical marijuana
By 1963, he determined the structure of cannabidiol (CBD), an important component of marijuana. A year later, he became the first person to isolate delta-9 tetrahydrocannabinol (THC), the psychoactive ingredient in marijuana. Over the ensuing decades, Mechoulam and his team continued to isolate numerous compounds from the cannabis plant.
Their work also went a long way toward illuminating how the drug works in the brain. When Mechoulam's team identified the first known endogenous cannabinoid, a chemical actually made by the brain itself, he named it "anandamide." In the Sanskrit language, ananda means "supreme bliss," which gives us some insight into what Mechoulam thinks of cannabinoids overall.
It was halfway through our long afternoon discussion that Mechoulam, now 83, pulled out a paper he had written in 1999, describing something known as "the entourage effect."
Read full article here: http://www.cnn.com/2014/03/11/health/gupta-marijuana-entourage/index.html