THCP gummies are being sought for both recreational and medicinal purposes, but it is only the best THCP gummies that can produce the desired effects. In this brief, we are going to analyze the traits of the best products in the market and see which ones are topping the charts!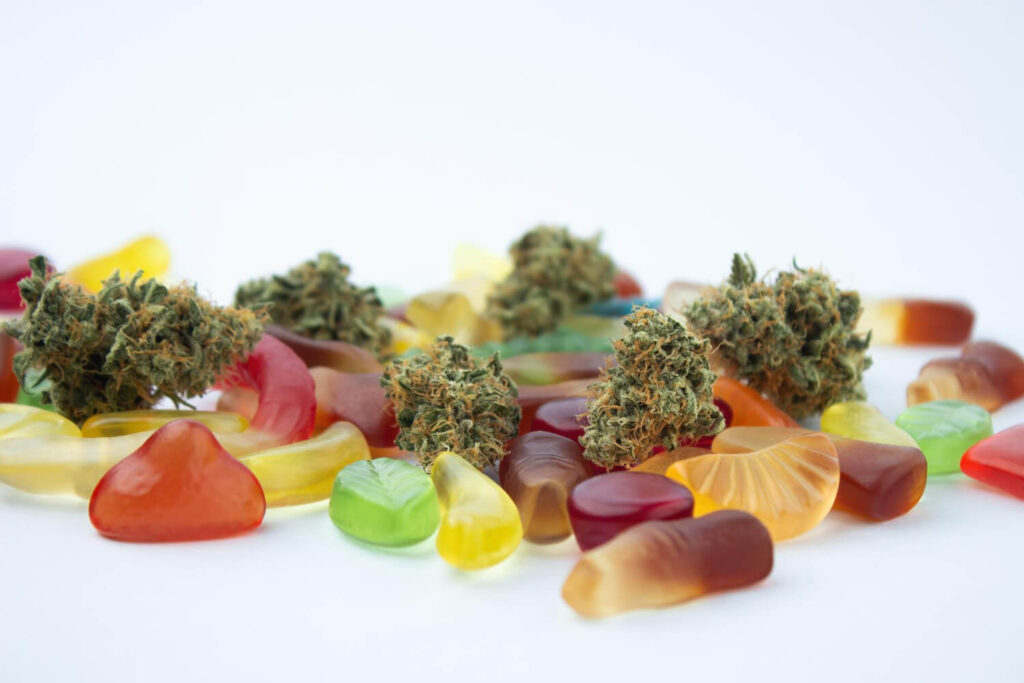 Shortlist of the Best THCP Gummies of 2023
An Overview of the Best THCP Gummies
The list of the best THCP gummies that we have just shared with you is compiled while keeping several important factors in mind. Some of these factors include customer satisfaction ratings, third-party lab testing, recommended dosages and the brand that you are investing in.
Binoid Premium THC-P Mixed Gummies

Binoid Premium THC-P Mixed Gummies a perfect pick for those folks who are looking for a vegan option in the gummies section. These THCP gummies deliver a potent dose of 25 mg of Delta-8 plus THCP per gummy. The fact that there are multiple flavors available adds a lot of value to this product. In total, this product has 500 mg THCP.
Some of the effects that are associated with these THCP gummies include heavy buzz, mental and physical experience, intense experience and an overall feeling of relaxation. The product has excellent customer reviews, which give us a quite clear indication about the product quality.
| THCP Potency | 25 mg  |
| --- | --- |
| Type of THCP Extract | 92% pure THC-p and Delta-8 distillate extracted from hemp |
| Recommended dosage | ½ or less a gummy |
| Price | $29.99 |
| Customer ratings | 4.8 |
| About the Brand | Binoid is a brand that has established itself as a key player when it comes to product development using the newest cannabinoids |
Moonwalkr THC-P Blend Gummies Strawnana

Moonwalkr THC-P Blend Gummies Strawnana offer a total 25 gummies available in one bottle, and the total strength in one bottle is around 900 mg. These gummies feature a Strawnana flavor, and are sourced from one hundred percent USA hemp. The fact that Moonwalkr only uses premium quality ingredients adds a lot of value to this product.
The products at Moonwalkr are plant-based, which means that you have an excellent option in case you are a vegan. Plus, all the products are tested by third-party, which means they are all high on pure quality. These and a few other traits discussed in the following table are what make this brand such a premium pick.
| THCP Potency | 1 mg THCP per gummy |
| --- | --- |
| Type of THCP Extract | THCP is sourced from USA hemp |
| Recommended dosage | It is recommended to start with ½ gummy and wait for at least 45 minutes before using the next one. |
| Price | $47.99 |
| Customer ratings | 4.7 |
| About the Brand | MoonWalkr works with the mission to experiment as much as it can with the wondrous properties of hemp. It combines award-winning terpenes and natural flavors to add new dimensions to taste, balance and euphoria for all cannabinoids. |
Galaxy Treats Blue Punch THCP Gummies

Galaxy Treats Blue Punch THCP Gummies include ingredients such as sugar, corn syrup, pectin, sunflower oil, water, sodium citrate, sodium acid sulfate, citric acid, 125 mg Delta 9 THC and certain plant derived terpenes. THCP used in this product is extracted from hemp.
The uniqueness of this product probably lies in the Berry Melon flavor, which has a very uplifting quality about it. Then, the fact that the total THC content is also under 0.3% makes these gummies quite a favorable option among the users. Not everyone is looking to get high, so there is value! The total cannabinoid of these gummies per jar is 2500 mg.
| THCP Potency | 125 mg |
| --- | --- |
| Type of THCP Extract | Hemp derived |
| Recommended dosage | Though there isn't an exact dosage given for this product by the brand itself, the brand advises users to consume these gummies with extreme caution. |
| Price | $34.99 |
| Customer ratings | 4.9 |
| About the Brand | A brand that promises to always put quality over quantity, Galaxy treats has been featured in High Times and CBD incubator. |
TRĒ House THCP Gummies

TRĒ House THCP Gummies are with HHC+ THCP feature a 2:1 respectively, and are available in a tropical mango taste. The combination of cannabinoids that features in these gummies is quite interesting. Some of the benefits that are associated with these THCP gummies include relaxation, mood elevation, body buzz and head buzz.
Imagine popping one of those after coming home on a tiresome day. You are likely to feel the magic that is often associated with the THCP gummies. The taste of these gummies is quite a unique one, it takes you in a rush to the tropics where life is so calm and peaceful.
| THCP Potency | 2 mg THC-P per serving |
| --- | --- |
| Type of THCP Extract | Sourced from USA hemp |
| Recommended dosage | It is recommended to start with one gummy and then see how things go from that point onwards. |
| Price | $34.99 |
| Customer ratings | 4.9 |
| About the Brand | Trē House creates its products, using a combination of cannabinoids, as it is evident in this product. |
Our Choice
Elyxr Mutant Blend Gummies With THCP

Elyxr Mutant Blend Gummies with THCP allow you to explore three ultra-potent cannabinoids at the same time. These gummies offer a generous 50mg of THC-P, THC-H, and THC-B in each and every piece. Furthermore, this cannabinoid trio pairs up nicely with the fresh, terpene-rich live resin. Certainly, the Elyxr mutant blend gummies have taken the concept of hemp gummies to a whole new level of satisfaction.
 The brand is a popular pick for those who are always searching for options in various strains. Here, you get a lot of variety in Indica, Sativa and the Hybrid strains. But be sure to start low and only amp up the dose if your body responds well to the dose!
| THCP Potency | 50mg of THC-P, THC-H, and THC-B s |
| --- | --- |
| Type of THCP Extract | This brand offers products in Indica, Sativa and Hybrid strains. |
| Recommended dosage | It is best to start with 1-2 gummies every morning and evaluate how your body responds to these gummies over the course of 30 days. |
| Price | $65.42 |
| Customer ratings | 4.9 |
| About the Brand | Elyxr's biggest flex has to be the fact that they manufacture their products at a FDA regulated facility. |
How to Choose the Best THCP Gummies?
When it comes to choosing the THCP gummies there are several factors that need to be considered when choosing the THCP gummies. From reading the information about the ingredients in the fine print to checking out the reviews and recommendations, from considering the legal considerations to keeping your personal preferences at the top of the list, there are so many boxes that need to be checked. In the following lines, we are going to share some of the most important parameters in this regard.
Lab Testing
One of the most critical aspects when choosing any cannabis product, not just the THCP gummies, actually! If you do a little market research on your own, you will see that most reputable brands try their best to display third-party lab testing on their product package.
Third-party testing ensures quality, potency and safety for a product. During third-party lab testing, the cannabinoid content of the THCP gummies is analyzed. Furthermore, harmful contaminants such as pesticides, heavy materials and residual solvents are also probed.
One of the major reasons why third-party lab testing is done is because it brings the element of transparency into play. Consumers can make informed decisions after reading these reports. So, when you are searching for THCP gummies, make sure that you swipe your credit card for products that provide easily accessible lab test results.
Dosage Information
Dose is one of the most discussed topics in the cannabis world. Low dose, high dose, dose for beginners, dose for novices. All of these subtopics have different answers, which is why researching dose information is so important.
In the case of THCP gummies, it is best to start with a low dose and wait for a few days. Monitoring our body's response after consuming THCP gummies can give us a lot of clues as to how to proceed further. If you purchase a THCP edible, make sure that it comes with the established guidelines. If there is no established guideline available with the product package, please don't ditch caution.
Individual tolerances and metabolism are also to be kept in mind here. What one dose might achieve for one person may not achieve the same goal for another. Consulting a healthcare professional to determine your starting dose is, perhaps, the wisest course of action for newbies
Source
What kind of source is the brand you are opting to use for making THCP gummies? Reliability and safe experience is almost impossible without knowing the answers to these questions.
Established brands and trusted dispensaries with a lot of repute make it their policy to display their source. Here, another question that needs to be answered is: Are the source materials being subject to rigorous quality control standards as well? It is very important to make sure that the THCP gummies are being produced using safe and consistent methods. And how can you ensure the credibility of the sourcing? Researching and reading reviews is the best option that you have in this regard.
FAQs to Buy the Best THCP Gummies
What is THC-P in Gummies?
THCP, or Tetrahydrocannabiphorol, is a cannabinoid that is found in the cannabis plant. THCP is not as famous as some of the other cannabinoids that are well known, for example, THC and CBD. THCP gummies are an excellent option for experiencing the physiological effects that are associated with THCP. Some of the effects associated with THCP gummies include euphoria, relaxation and a physical and mental buzz. It is pertinent to mention here that the binding affinity of THCP to cannabinoid receptors is quite different as compared to THC. Hence, the effects are quite distinct as well.
How Powerful Can THCP Be?
THCP's potency depends on various factors. Some of these factors include dose, individual tolerance and the overall cannabinoid interactions. As compared to some of the other cannabinoids, THCP hasn't been studied that well. But it is not like researchers are being idle. We already know that THCP is quite a potent cannabinoid, which is why it is best to start with a low dose. Monitoring the body for potential strong side effects is the best approach. The individual effects can vary from one person to another. Hence, it is advised not to base your expectations on what others experience after consuming THCP gummies.
How Long Does it Take for THCP Gummies to Kick In?
The same set of factors that we mentioned earlier also influences the time it takes THCP gummies to kick in. Normally, edible cannabis products such as gummies take a little longer to kick in, as compared to other methods of THCP consumption, for example, smoking or vaping. Usually, it takes around 30 minutes to 120 minutes before THCP gummies produce their effect. The little extra time that THCP gummies take is because of the digestion and absorption process in the gastrointestinal tract. Here, factors such as metabolism, stomach activity level and a few other factors can influence this time period.
To Summarize: What is the Best THCP Gummy?
Usually, the best THCP gummies are ones that come from a reputable brand. Furthermore, the best THCP gummies are lab-tested for quality and potency as well. Furthermore, THCP gummies manufactured by reputable brands also ensure transparency and make sure that there are no contaminants in the THCP gummies.
Other perks that are characteristic of the best THCP gummies include dosage instructions and adherence to industry standards and regulations. And you have the best options available to choose from as well, the ones that we have shared with you already! So, on this optimistic note, we bid you farewell from this brief.
How Did We Pick These Products?
Our selection of products is based on an objective and meticulous review process. We start by ensuring that a product has been third-party lab tested. Key criteria also include the source of hemp, extraction methods, product potency, brand reputation and the overall feelings or experiences induced by the product. We also recognize the importance of real-world usage and customer reviews play an instrumental role in our evaluations offering insights from those who have firsthand experience with the products.
We may earn commissions from qualifying purchases made through links in our cannabis and hemp product reviews. This helps support our research and allows us to continue providing valuable information to our readers. For full transparency, please click and read our affiliate disclosure.
Why You Can Trust The Marijuana Index
Our team of passionate experts simplifies the complex, providing clear and concise insights tailored to your unique journey with cannabis or hemp products. We are committed to transparency, truth, and the potential of cannabis for wellbeing. To understand more about our commitment to you, we encourage you to learn more about us. 
If you have more questions for our cannabis specialist editors, do not hesitate to contact us. You can also send us a tweet at @Marijuana_index. Stay updated with the latest cannabis news by subscribing to our Newsletter.