Everyone wants THCP cartridges that are highly qualitative, but what exactly are the traits of the best THCP cart, and what does it look like? Let's find out!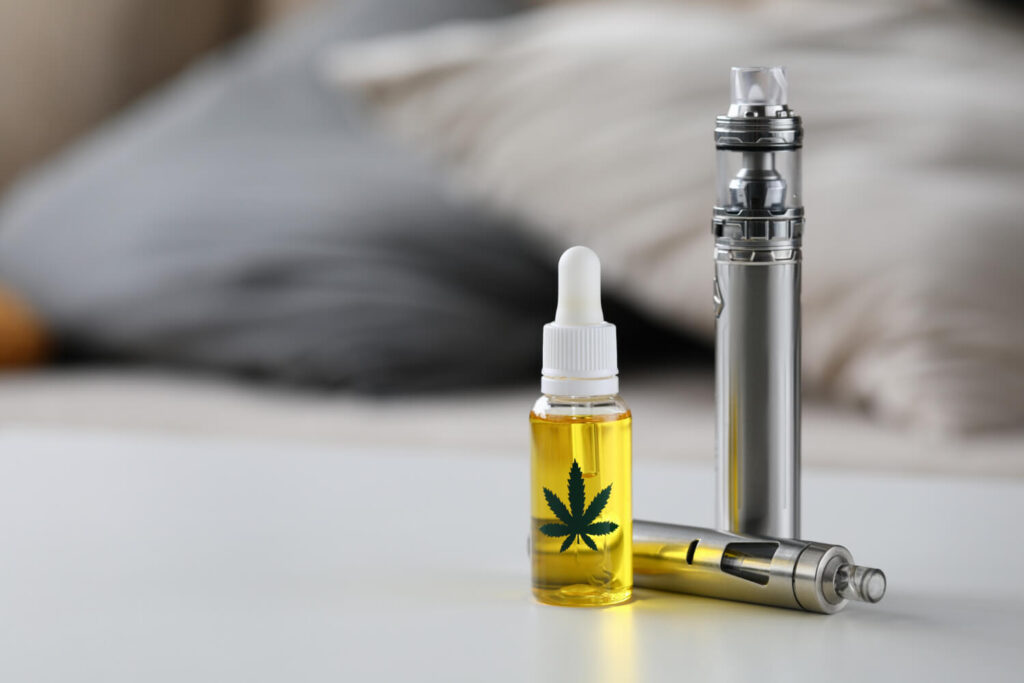 Shortlist of the Best THCP Cartridges of 2023
An Overview of the Best THCP Cartridges
That one, no this one, no that one, no this one. None of this anymore; you will not be subject to frustrating shopping experiences anymore. We have compiled a list of the best THCP cartridges for you here, which we will discuss now.
Our Choice
Binoid – Best Overall THC-P Vape Cartridges

Binoid uses premium THCP distillate that is used in this THCP cart is what makes it such a potent vape cart. Binoid has paired it with the amazingness of Delta-8 and terpenes strains of high quality to provide users a physical and mental buzz that is quite something. This THCP vape cartridge is available in the Aurora Indica flavor.
Most of the time, THC-P vape carts steal the show courtesy of the wide range of flavors that they offer, and well, Binoid has hardly disappointed us. Aurora Indica flavor carts are quite a rarity in the market, and the one gram of THCP that this cart features becomes doubly enjoyable courtesy of the terpenes and this particular flavor.
| | |
| --- | --- |
| THCP Potency | One gram of THCP |
| Type of THCP Extract | Hemp derived |
| Recommended dosage | Hold each hit 5-10 seconds during use. |
| Price | $32.99 |
| Customer ratings | 4.8 |
| About the Brand | Binoid is a brand that has established itself as a key player when it comes to product development using the newest cannabinoids |
TRĒ House – Best Live Resin THCP Carts

TRĒ House is a high quality product that likes to keep things simple and pure. There are certain brands out there which like to experiment with the additives, but not at TRĒ House.
Here, the idea is to provide a buzz that is pure to the core, and keeps you motivated. The product comes with all the due distinctions, some of which include 60-day guarantee, verified potency and compliance with the 2018 Farm Bill.
| | |
| --- | --- |
| THCP Potency | One gram of THCP with live resin delta-8 |
| Type of THCP Extract | Sourced from 100 percent USA hemp |
| Recommended dosage | Start by taking one puff, waiting 20-30 minutes to see how you feel, and then decide on the next puff |
| Price | $16.99 |
| Customer ratings | 5 |
| About the Brand | Trē House creates its products, using a combination of cannabinoids, as it is evident in this product. |
Elyxr – THC-P Cartridges 1 Gram

Elyxr THCP cartridges are available in three strains, which include the sativa-banana mango, Indica-God Father OG and the hybrid strain i.e. Ninja fruit. It is this versatility, most of all the factors which makes Elyxr such a key player in this arena. The products come with a verified potency and their quality is discussed and stamped in the third party reports available on the product page. The biggest flex for this brand? Wait for it, drum rolls. Elyxr THCP cartridges are manufactured at a FDA approved facility. Exactly how many brands are out there which can say this?

| | |
| --- | --- |
| THCP Potency | 1 gram |
| Type of THCP Extract | Hemp Derived D8 Oil, Hemp Derived THC-P Oil, Hemp-Derived Terpenes |
| Recommended dosage | Take 1-2 puffs. One to two times per day, depending on desired level of effects. Adjust dosage if necessary. Effects can take up to one hour to kick in |
| Price | $34.99 |
| Customer ratings | 4.9 |
| About the Brand | Elyxr's biggest flex has to be the fact that they manufacture their products at a FDA regulated facility. |
Koi – THCP Vape Carts

Koi – THCP cartridges are available in three different flavors. These include the forbidden fruit (Indica), golden pineapple (sativa) and the raspberry kush (hybrid). All of these strains provide very powerful relief and hard-hitting effects. Furthermore, there are no cutting agents, fillers or additives that might affect the taste or the quality of this product.
Oh, and the ceramic coil that is compatible with the standard 510 threaded batteries certainly seals the deal. No compromise has been made on the quality of ceramic coil by the manufacturers either. All in all, the Koi THC-vape carts are an awesome pick for anyone who is looking for quick but powerful relief from THCP vape carts.
| | |
| --- | --- |
| THCP Potency | One gram |
| Type of THCP Extract | Available in hybrid, sativa and indica strains |
| Recommended dosage | The brand advises users to use the product carefully, which means it is best to start with a low dose and see how things go. |
| Price | $34.99 |
| Customer ratings | 4.8 |
| About the Brand | Koi is known for many of its community support initiatives as well, the most significant one of which is perhaps the 25% discount to military members, medicos and disadvantaged individuals. |
Smylin – Indica THC-P Vape Cartridges

Smylin Indica THCP vape carts are available in either 1ml or 2ml packages. Well, it may seem a little insignificant bit of information, but it is important because it allows you to control your dose with a little more freedom. The strain is Indica, and the presence of natural terpenes is certainly one of the strongest points of this THCP vape cartridge as well.
For using this vape cart, please attach the cartridge to a 510 compatible battery and inhale with lips around the mouthpiece. All in all, this is a quality product from a premium brand that ranks right at the top with the competitors.
| | |
| --- | --- |
| THCP Potency | 1000mg or 2000mg |
| Type of THCP Extract | THCP with natural terpenes-indica strain |
| Recommended dosage | Starting with a low dose is advisable |
| Price | $34.99-$47.00 |
| Customer ratings | 5 |
| About the Brand | Smilyn is a brand that is known for coming up with products that are relaxing, usually gluten-free and are worth the money! |
How to Choose the Best THCP Cartridges?
So far, we have discussed the best THCP cartridges in this brief. Now, it is time to see what makes them the best THCP cartridges in the first place. Well, several factors must be considered when searching for the best in the business.
Of course, product quality and purity are at the top of the list. But this is a factor that has sub-factors too. Then, there is the matter of cannabinoid profile and terpene content. And lastly, brand reviews and the overall reputation matter too. In the following lines, we are going to have a look at all of these criteria briefly.
Product Quality and Purity
It is a nice phrase, but what constitutes product quality and purity? Well, first, you must have a look at the ingredients. Cartridges that do not list the ingredients are a big no-no. Here, another consideration is that the THCP oil in the cart must be derived from high-quality cannabis plants only.
Extraction methods used must be safe and reliable as well. The best way to ascertain this is to look for third-party testing. Any reputable brand to be discussed in this discourse will always provide these results, which verify the potency and purity of their products. Usually, a third-party assessment shows cannabinoid profile and terpene content and comments on the contaminants such as heavy metals and pesticides.
Also, brands who like to keep things transparent will likely develop better-quality products. So, read as much as possible about a brand's growing practice, extraction technique and overall quality measures.
Cannabinoid Profile and Terpene Content
Yes, you want to know as much as possible about THCP. But the overall cannabinoid profile and terpene content also matter a lot. But of course, the first box to check is that the cartridge you purchase must contain a meaningful concentration of THCP. Reading the label carefully can give you a clue about the exact composition of the product.
If you are opting for a full-spectrum or broad-spectrum product, then do your research about the different cannabinoids found in the product. Here, we are talking specifically about cannabinoids such as CBD, THC and CBN, to mention a few.
The terpene profile of the product must also be given due attention since terpenes can provide an enhanced entourage effect. Hence, the possibility of achieving more balanced and desirable effects becomes even more realistic. Oh, and if you are a fan of a particular flavor and aroma, don't forget about them, either.
Brand Reputation and User Reviews
There are different ways in which you can assess the brand reputation. Well, for starters, there is the word of mouth. Asking about a particular product in your friend or family circle can provide a first-hand review if someone has used it already. If the offline research doesn't work, we go online.
Usually, customer reviews are accurate and account for the product's efficacy. Here is a tip: Please filter the reviews and read those in detail that discuss the product's effects, flavor and potency. And lastly, you also have the option of becoming a participant in the community engagement programs that brands often launch. This is one of the best ways to learn about the different products and the science behind them.
FAQs to Buy the Best THCP Cartridges
Is THCP the Strongest Cannabinoid?
One of the claims you will always come across is that THCP is thirty times stronger than THC. It is true because THCP has a very high affinity for the endocannabinoid receptors found in our body. This affinity is relatively high compared to THC, which has an affinity for these receptors. However, because some of the receptors in the endocannabinoid system are already bound, and the interaction isn't always a proper one, the claim about 30X remains for further research. Nevertheless, when discussed in comparison to THC and CBD, THCP is a powerful cannabinoid.
Is THCP Safe to Use?
As with any other cannabinoid, the risk of side effects can't be ignored when THCP consumption is under discussion. However, these side effects can be countered adequately by implementing strict product development protocols. Here, the reports from third-party lab testing can prove to be quite handy. Of course, the long-term side effects of most cannabinoids are yet to be adequately understood since they are a relatively new entry in the research world. But by paying proper attention to purity, proper dosing and transparency, many of these side effects can be easily averted.
Can You Use THCP Cartridges in a Disposable Vape Pen?
Yes, using THCP carts in a disposable vape pen is possible. However, the compatibility here is annexed to several factors. Two of these factors include specific design and threading of the pen and cartridge. If you are geared up about this combo, it is best to leave a request with the concerned brand, requesting them to confirm compatibility with a particular pen. If you are unsure about the match, it may not be the best thing to do since incompatibility can lead to improper functioning and leakage.
To Summarize: What is the Best THCP Cartridge?
In the concluding remarks of this brief, we would just like to reiterate the importance of doing your market research carefully. If you do, you will surely find the best THCP cartridge.
The traits of the best THCP cartridge are in this brief, and the examples of the best makes are shared with you as well. From carefully reading the labels to narrowing down the choices in terms of potency, you have a lot of homework. But follow our guide and you shall be ok! On that optimistic note, we bid you farewell from this space.
How Did We Pick These Products?
Our selection of products is based on an objective and meticulous review process. We start by ensuring that a product has been third-party lab tested. Key criteria also include the source of hemp, extraction methods, product potency, brand reputation and the overall feelings or experiences induced by the product. We also recognize the importance of real-world usage and customer reviews play an instrumental role in our evaluations offering insights from those who have firsthand experience with the products.
We may earn commissions from qualifying purchases made through links in our cannabis and hemp product reviews. This helps support our research and allows us to continue providing valuable information to our readers. For full transparency, please click and read our affiliate disclosure.
Why You Can Trust The Marijuana Index
Our team of passionate experts simplifies the complex, providing clear and concise insights tailored to your unique journey with cannabis or hemp products. We are committed to transparency, truth, and the potential of cannabis for wellbeing. To understand more about our commitment to you, we encourage you to learn more about us. 
If you have more questions for our cannabis specialist editors, do not hesitate to contact us. You can also send us a tweet at @Marijuana_index. Stay updated with the latest cannabis news by subscribing to our Newsletter.